So I took the time ripping these 3d models frames to make new stuff for Blood. These are basically new FPS frames for the beast mode transformation for Caleb that was scrapped from the alpha version.
Original rips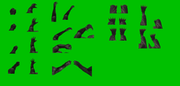 Beast color scheme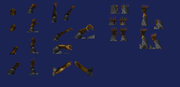 I posted these in discord, and got some insightful input from a few users who mentioned that a lot of "over painting" was required to make this look remotely close to Blood's style of graphics. I tried an attempt with Photo shop, but found that although I could reach close to meeting the coloring style of Blood, inner details like shading and pixel art arrangement wasn't coming out anywhere close to what I had hoped for. for example I used various tricks with index color (such as diffusion and pattern). Apparently Photoshop (be it version 2017 or 2020) also can't pixelate sprites to 1 pixel blocks like the older Paintshop version could.
I was hoping someone here familiar with Blood's art style can provide some input for how one can make these 3d rips look as much "Blood" like as possible with the use of photoshop.
Thank you