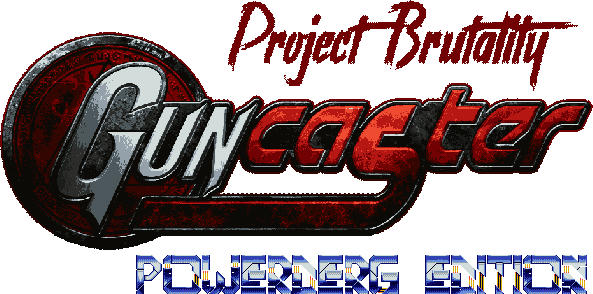 Updated on February 22, 2017 to match Brutal Guncaster's stuff and things! Now based on Project Brutality 3.0!
Updated on February 26, 2017, rebuilt almost from the ground up entirely. There MAY be some bugs but I've spent the better part of the last 3 or 4 days trying to make sure there are none.
NOTES; I have been told by PillowBlaster that I am the only one allowed to do such a Brutal Doomesque-mod compatbility thing with Guncaster, and that he won't allow any more than that.
EVERYTHING IN THIS DOCUMENT STILL APPLIES TO THIS MOD AS WELL AS GUNCASTER!
555 Project Guncaster is, simply,
Guncaster 2.8
+
Project Brutality
. And nothing more than that.
All the features from
Brutal Guncaster
with all the extra monsters from Project Brutality.
There
probably will be
might be bugs. Report any you find. And I will
attempt to
fix them.
Current known (being fixed soon-ish) bugs; REPORT ANY MORE YOU FIND PLEASE!
-Some actors spew warnings, I already am aware of this, I will fix it. In the mean time stay calm and have some cake or something. And enjoy the mod.
-Strat ironblast fires upon corpses despite my best efforts to prevent such. Any help would be very appreciated...
Credits
If I'm missing anything for credits please let me know.
Here's some Gameplay of a VERY OLD BETA, I need new gameplay videos! Post em up and I'll link em here!
THIS MOD REQUIRES GZDOOM 2.2 OR ABOVE.
Runs best on GZDoom 2.3.2
NEW! Download V2