SX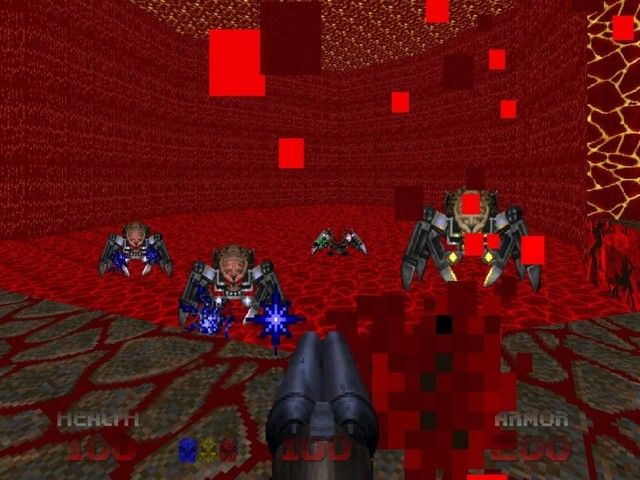 Look at the picture - absolute amazing isnt it?
Thats Ultimate Doom with the Doom64StuffGZ WAD.
http://files.drdteam.org/index.php/file ... tuffgz.zip
Only there are some limitations which i liked improved.
First all D64 weapons be removed to support other WAD preferrals.
Then i found this DukeNukem3D WAD with pigcops to replace the Zombie-
Sergeants and ChainGunners and AlienGrunts for the normal ZombieGuys.
http://www.moddb.com/downloads/mirror/4 ... 2dd86dfa4b
Further are there still the original Revenant and Archviles in it which now of course look disturbing.
So the file needs new replace classes with ShogunTroguns RL Demon and recoloured DN3D Drones.
http://www.mediafire.com/download.php?f3omo6k619s67s6
http://www.realm667.com/index.php?optio ... Itemid=181
Last but not least the D64 Queen which also disturbs be of course replaced with the DN3D Queen somehow.
http://www.realm667.com/index.php?optio ... Itemid=181
Last note - despite the file replaces the CacoDemons and Imps and Demons it has different
in UDoom unused pedants which could as last task be randomized for more variety.
Minor find - ClassicRivalry which has well converted resources from DN3D
even the addons gungorillas and ShadowWarrior as well as very many others!
http://zdoom.org/wiki/Classic_Rivalry
TASK LIST:
>
removing weapons and stuffs from D64StuffGZ and renaming
>
removing D64 ZombieGuy ShotgunGuy and ChainGunner
and adding the DN3D AlienGrunts and PigCops
>
recreation of the Archvile class with recoloured DN3D Drone sprites
>
adding the ShogunTrogun Demon as replacement for the Revenants
>
removing the D64 Queen and adding the DN3D Queen
>
randomizing the CacoDemon Demon and Imp
replacements by adding their unused (DN3D) variants
P.S.: Unfortunately im myself haveing no ideas at all how to start with
this so we must make it as community project with you all as helpers!
And maybe also as tutorial if everybody explains how to make the tasks.
UPDATE 1:
DOOM64 MONSTER REPLACER V07
https://skydrive.live.com/#cid=858C2800 ... 324E%21105
http://www.moddb.com/games/doom/addons/ ... placer-v07
This is basically the Doom64StuffGZ file but with D64 weapons removed
and a few replacement changes like the red CacoDemon and the dark Spectre
added also are the unreplacable monsters the Mothra the Nightmare imp the
green Demon the brown CacoDemon and the decorations taken out.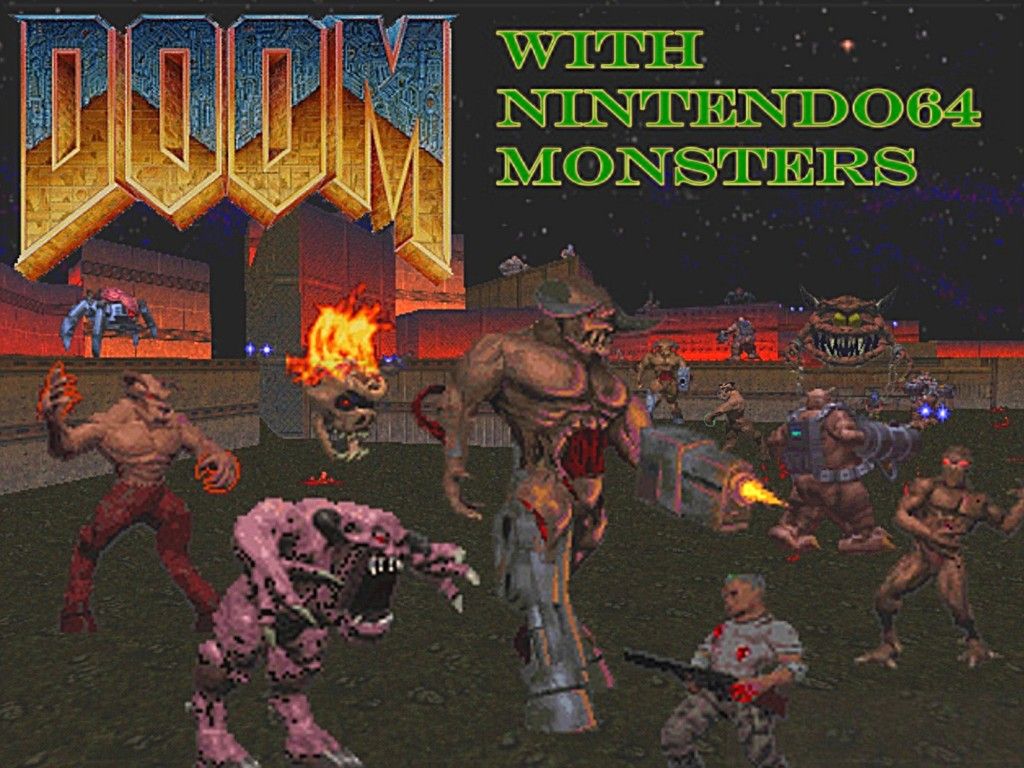 P.S.: Best played with maps like these (Quake2Style):
http://www.doomworld.com/idgames/?id=13597
FREeDOOmPLAYEr
Imo the best skin to play the D64MonsterReplace with!
This file is tricky - since it completely replaces the original
DoomGuy even CoopMarines (included) have their appearance.
http://www.mediafire.com/download.php?61m9bjwh2w0kr35
QUAKeRANGErV09:
New playerclass with high quality
weapon compilation for replaceing ingame.
https://skydrive.live.com/#cid=858C2800 ... 324E%21105
http://www.moddb.com/games/doom/addons/ ... eapons-v09