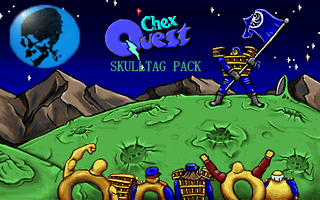 Latest version of this mod: P16-3.2:
http://www.ifocserv.net/ftp/wads/ChexPackP16-3.2.pk3



NOTE: As of ChexSTPackP15-7 (7/29/2011) this mod sets its own DMFLAGS as needed.

IRC Channel
irc://irc.zandronum.com/IFOC
Come here if you want to request a server, or if you want to play and there isn't anyone in the server.
Servers:
You can currently find this mod on the following Zandronum servers:
<[IFOC] Server>: Chex Pack Duel
<[IFOC] Server>: Chex Pack Zorchmatch
<[IFOC] Server>: Chex Pack CTF

Brand new weapons: Zorch Gloves (slot 1, melee), CL Zorcher (slot 2), Freezing Zorcher (slot 5), Frozen orb zorcher (slot 7),

and a secret joke weapon

Weapons ported from Chex Quest Arena: Ultra rapid zorcher (minigun replacement), Zorch launcher (grenade launcher replacement), and Liquid Zorcher (BFG 10k replacement)
The minizorchers, propulsors, freezing propulsors, and bootsporks can all be dual wielded, just pick up two of them.
IWAD - Chex Quest 3 V1.4:
http://www.chucktropolis.com/downloads/ChexQuest3.zip
It must be this exact IWAD, or the game will not work. If in doubt, update. There are subtle changes from the earlier versions of the IWAD. Zandronum doesn't warn you about the wrong IWAD, so if you get an error running my mod, try re-downloading chex3.wad.


There's also another wad named chex3.wad that's from 1998 that will not work at all.

It only runs on zandronum, since the wad replaces zandronum actors. I have a zDoom compatible version as well, but I rarely release it. I will release it more often when I have single player missions.
Map list:

Maps made by me unless otherwise specified
If you just want to try out the maps, go into the console using the '~' key, then type "MAP <LUMP NAME>", e.g., to get to ZM01, you would type MAP ZM01
Zorchmatch (deathmatch):
ZM01-ZM07
Duel:
DUELHUB, through which you can access...
DUEL01-DUEL16 + DUEL33
DUEL03 and DUEL12 by Quadrumpusguy
Invasion:
INV01 (demo)
CTF:
CTF01-CTF06
Co-op:
E1M8 (demo)
Videos
(note: these videos are 200x the size of my mod, why not join the server and try it in person?)
Spoiler:
Screenshots:
Spoiler:
Would you like to help map for this mod? See this topic:
http://www.chexquest.org/index.php?topic=3325.0
Make sure you include both chex3.wad and this pk3 as additional resources when making your map
EDIT - Weapons list:
The mini zorcher, propulsors, freezing zorchers, and bootsporks can be dual wielded, pick up two of them and you can hold them both at the same time.
Slot 1: Bootspoon, Bootspork(s), zorch gloves,
Ghettoblaster
Slot 2: Minizorcher(s), CL Zorcher
Slot 3: Large zorcher, Super Large Zorcher
Slot 4: Rapid Zorcher, Ultra Rapid Zorcher
Slot 5: Propulsor(s), Freezing Zorcher(s), Zorchlauncher
Slot 6: Phasing Zorcher, Rail Zorcher
Slot 7: LAZ Device, Liquid Zorcher
Note: Here are the doom equivalents of these weapons:
Bootspoon = Fist
Bootspork = Chainsaw (you can dual wield this weapon)
Minizorcher = Pistol (you can dual wield this weapon)
Large Zorcher = Shotgun
Super Large Zorcher = Super Shotgun
Rapid Zorcher = chaingun
Ultra Rapid Zorcher = Minigun
Zorch Propulsor = Rocket Launcher (you can dual wield this weapon)
Zorch Launcher = Grenade Launcher
Phasing Zorcher = Plasma Rifle
Rail Zorcher = Railgun
LAZ Device = BFG9000
Liquid Zorcher = BFG10k