Hello again folks, I decided instead of posting in my other thread to simply post any and all ZDoom modifcations I'm developing/developed in this thread.
A small blurb about what happened to me: Health problems, coupled with some school issues, took up my time on the other project and the project got canned.

However, a dear friend of mine was willing to help me with a mod idea I have - to convert and fix my first mod, Boredomdai 3D, to fix some bugs that you folks help point out, and to use better sounds - including the excellent shotgun sound found in Doom PSX. A finalized version of the mod will be published here once I figure out a certain vexing bug that is preventing the game from being finished.
But
Boredomdai 3D was turned into an epically so-bad-it's-good fanfiction style game mod. One that many of my friends found was "such a bad idea, it had potential to be good." This person ended up helping me beta-test the mod in mutli-player.
The story: A small choirboy has to defeat the evil church's slew of mutants. Meanwhile, the church is working with a demonic leader known as PAEC who wants to rid the world of imperfect people. This choirboy happens to be the Glee Club kid from Rhythm Heaven, a game released by Nintendo.
Sound silly? Well... it is. But it's brilliant. The first mod in the series has been stuck cold though because of a bug involving the countdown ticker.
I give people who have good eyes and technical skills the authorization to poke into this mod and see what can be done to optimize the ACS scripting in E2M5. Me and my friend can't figure it out, it keeps desyncing and causing a crash upon exit.
---
But the Super Chorboy mod, the sequel where mutant clams are invading the place... is in RC2 stage, recently going through a graphics optimization overhaul and some map-related bugfixes. It'll also be the most playable. It requires a recent SVN build of ZDoom, as it contains things like A_MonsterRefire().
The SVN is
here.
Or you can use one of the releases down below.
Me and my friend welcome people to expand upon this project. That's why all original sprites, textures, sounds and the DECORATE code are available under a Google code compatible license.
---
RELEASES
Super Choirboy (RC2)
- The Ultimate Cartoony mod for ZDoom. Fight through evil clams, mutants and demons from outer space - and save a drifting classroom from doom. Contains the PK3, custom default config, and BATCH files to help you start it up. Will contain an enclosed instruction book. 17 levels.
Choirboy (Beta 1)
- The original Choirboy mod, based off of the original Boredomdai 3D. Fight the evil church and the FINAL BOSS and save the world from the demonic downward spiral. Contains the PK3 only, and contains some bugs. Help a guy out.
MEDIA
Super Choirboy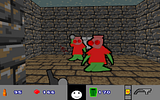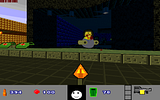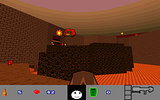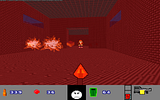 Choirboy
coming soon...
Enjoy the mods and give constructive feedback.
PS: I was influenced by PSX Doom mainly to do this mod, because of the awesomeness that it is. thanks Fender (sp?) for inspiring me.