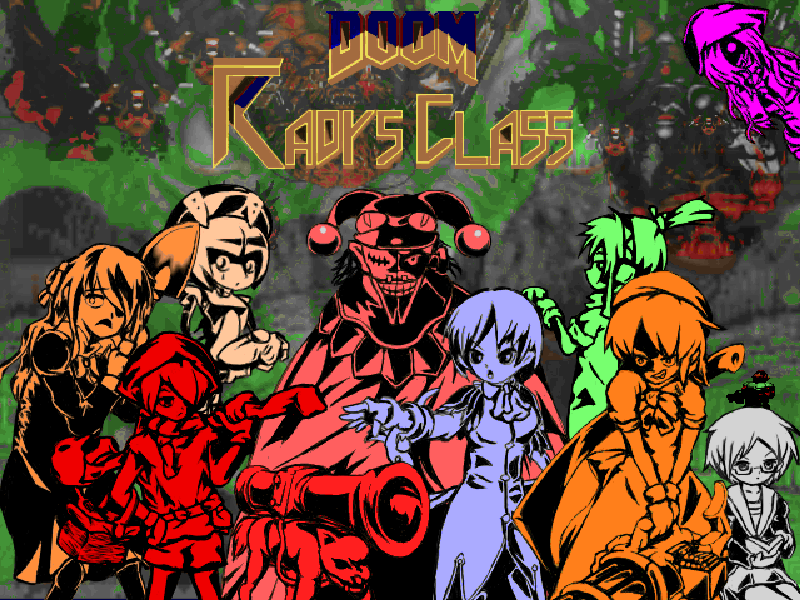 FIRST THING : THIS IS NOT MY WORK, I'M JUST SHOWING YOU A COOL MOD I'VE FOUND ON A JAPANESE DOOM BBS/BLOG THINGIE.
Author of this mod is SHOgun
http://www.geocities.jp/doomer667shogun/index.html
This mod can be run with ZDOOM or GZDOOM. It features new GFX, new SFX, new Music Tracks, a bunch of new weapons (author says 98, but I have some doubts, actually, there are variation of guns, depending of your class.) There's a Shop System, yet it seems to doesn't work.
There are 24 items you can use. This is not a level WAD.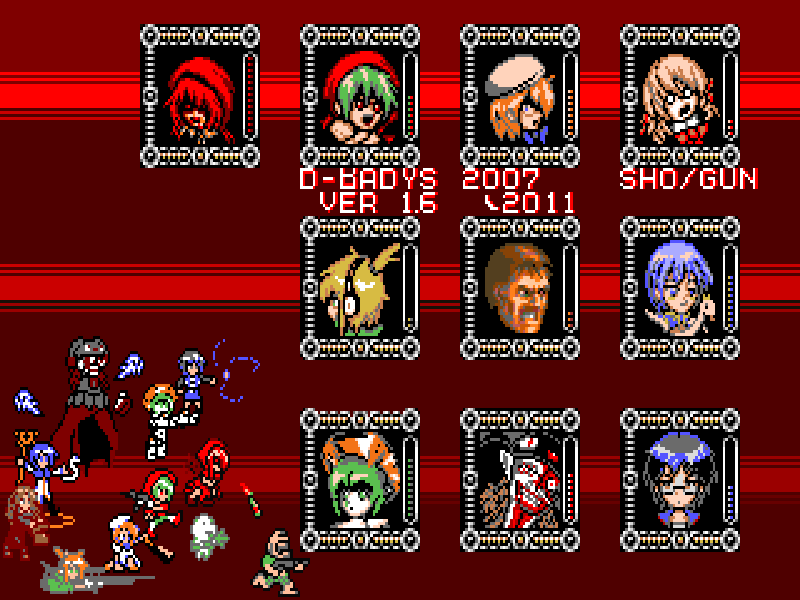 Mod features 9 different classes. (The ReadMe file is completely fucked up, so I can't really tell about the advantages/disadvantages of each class, all characters have their unique weapons and skills)
The mod uses data (graphics, sounds...) from various games (Heretic, Hexen, Duke3D, Blood, RoTT) it uses stuff from Realm667.com, and from the following wads:
-Brutal Doom
-Arsenal
-Aeons Of Death
-Imminent Firestorm
-Equinox
-BatmanDOOM
-Bp2Wm
-Doom 3 Mod
-SPZDOOM2
-Painkill
-Westandoom
-Kisound4
-Bsswm
-Le_Guns 2
-Le_guns 3
-GvH
-Action Doom
-WGR2
-Ketshup / Nashgore (?)
Mod comes with a Manual, yet, this one is quite messed up (probably because it's written in Japanese) so don't exept any information about guns, items or enemies. (Some names are even dis-formed)

= HOW TO RUN =
Select DRCv6_spray , DRCv62_gf , and DRCv62_wt13fix wad files, and then drag them to your ZDOOM / GZDOOM .exe, then enjoy the mod!
Remember to define keys before starting for optimal gameplay.
= ARMORY =
Melee:
Spoiler:
Guns Set 1:
Spoiler:
Guns Set 2 :
Spoiler:
Launchers :
Spoiler:
Energy Weapons :
Spoiler:
Magic Weapons :
Spoiler:
Undead Weapons :
Spoiler:
Projectile / Throwing Weapons :
Spoiler:
Ennemies Limbs
Looks like you can actually get Monster's Weapons. (Never got the chance to test this IG)
Spoiler:
= ITEMS = (As the manual is fucked up, I have only limited knowledge of item's effects.)
Spoiler: