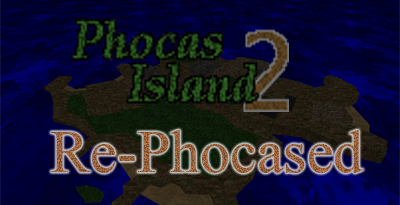 I haven't done much with this project in the past few months. I've decided to just upload what I have done and let people choose if they want to see what has been done so far or wait until a release (which could take a while).
---Unfinished Beta---
Endurance Mode/Weapon leveling preview:
----------------------Map Re-phocasing status-----------------------------
Red = lots of work left
Orange = progress has been made
Green = Ready to go



Beached




Gloam




Bosk




Retreat




Height




Hallowed




Sanctuary





----------------------------Updates--------------------------------------------
June 21, 2012
Many months have passed and no work has been done on this project. I posted a link to a beta that includes a what I have done so far. Adventure mode is still unfinished in some areas, so play at your own discretion. Endurance mode however, is mostly complete (besides minor tweaks). If you check out the beta for endurance mode, you should have no problems.
Link here
October 10, 2011
-Endurance mode is wrapping up nicely. I should have a beta test out within the week.
-Adventure mode is coming along. The biggest part left is the last area of the island. Other than that, it's mostly update the detail in some areas and minor bugfixes.
-I'm still looking for someone to compose 2 - 3 more tracks for the project.
- July 8, 2011
I contacted Jute (the guy who made the vanilla Phocas2 music) and he said he was too busy to compose a few more tracks. So, with that, I need a musician willing to do 2 - 3 new tracks. If any of you feel up to the challenge, let me know.
- June 28, 2011
I've been making great progress on endurance mode. A question I'm debating is when I get endurance mode finished, should I release it as a teaser? I'd strip the mod down and get rid of the more unique areas as they aren't used in endurance mode. The only spoilers are seeing the maps with no effort.
- June 21, 2011
-axe and rifle now have alt-fires
-added decals for fireballs
-ditched the idea for an achievement system.
-centaur darts stick to walls and trees.
-Endurance mode is almost ready for the testing stage.
-Future plans for deathmatch
-June 11, 2011
I've switched my focus from adventure mode to endurance mode. What is endurance mode? Let me tell you:
Endurance mode, as you can expect from the name is an endurance. It focuses purely on combat, no puzzle solving crap. You get to choose from one of the 7 maps to play on. You'll spawn in a semi-random spot and most side areas are blocked off. You will be given all weapons (yep, all of the 3 of them). Monsters will spawn and it's your job to kill them without getting killed. The more you kill, the faster they'll spawn. The only end is death where you can try and get a high score.
Fully testing this will take some time. My first initial test includes playing the map with leveling weapons and maxing their level. So far, the first 3 levels I've tested came to around 39 minutes to reach this point. Further testing will just be playing until I die. The spawn scripts are easily changed. I can change how many monsters spawn, and the spawn delay easily with a script or based on kill count milestones. Once I get endurance mode at least working on each map, I'll give it to a couple of testers for further testing. After that, I'll get a few people to play it and set high scores (their name will appear next to the score).
June 4, 2011:
-added a few new ideas and features.
April 15, 2011:
-Final areas on the island are being reworked.
March 14, 2011:
-Boss health bars (FDARI fixed my buggy nonworking code)
-Display of what % of the island you've completed
-a background for the status display
-refinement on the status display (removed pointless stats. Display changes depending on what mode you are in.
-the inventory has been refined. No more blanks spots to scroll through (thanks to FDARI for the entire inventory display replacement)
March 8, 2011:
Development has awoken from it's slumber. I am now working on this project again. \o/
August 12, 2010:
-listed new artifacts as a feature. One being the 'potato tablet'. This will show hints for all potatoes you haven't found on the map yet.
Last updated: July 21, 2010
I think I'll treat this thread as a more proper 'what to expect' thread. I will update now and then in this first post. In the future, updated things will be in red text.
----------------------Added Features-----------------------------
-"chaingun" sound has been changed
-More ambient sounds (birds chirping, howling winds, crackling fire etc.)
-Two new major bosses with their own unique areas.
-An entire completely optional map that will test your fighting skills rather than puzzle solving skills.
-New rifle graphics
-All maps are being revamped. More cliff-like structures in the canyon type areas. More variations to caves (dark spots with glowing mushrooms, more rivers and pools of water). More large scale trees in open areas.
-The instant death pits have been removed.
-"Jumping puzzles have been toned down
-dynamic lights on fireballs
-Improved fireball effects
-a splash sound effect
-dead bodies you release souls from have been changed to a much more noticable graphic
-Reverbs have been added to some areas.
-Extra effects when releasing a soul.
-Part of a puzzle in the temple map has been changed to be more noticable.
-The colour for underwater has been changed.
-One of the goals of a puzzle in the forest area has been changed to be more noticable
-The forest has been expanded to be more open.
-Critters, lots of critters. Rats, butterflies, snakes, jellyfish, vanilla fish, and seagulls.
-"survival mode" (name could change at any time). You have a choice of playing on any of the 7 maps. Some areas are closed off to streamline the gameplay. You get weapons which regain ammo fairly quickly. Depending on the skill chosen, monsters will teleport in at random. Stronger monsters have a smaller chance of spawning.
-12 different endings that depend on your actions while visiting the island.
-a point system.
-An option to have levelable weapons. Each weapon has 10 levels, with level 5 being what they were in the original release.
-More easter eggs (some aren't eggs though).
-First two maps each have a third path for reaching the next map.
-sparks/sounds from bullets hitting walls
-new rock textures (I have to check again if I'm allowed to use them though)
-"Hard mode". Monsters will have double health.
-Gore effects (I think it's nashgore. Not really sure, Captain Ventris added it).
-Monster roaming sounds and a few death effects.
-Boss health bars
-Display of what % of the island you've completed
-a background for the status display
-refinement on the status display (removed pointless stats. Display changes depending on what mode you are in.
-the inventory has been refined. No more blanks spots to scroll through
-Dead bodies that stay instead of fading out in endurance mode.
-Fireballs now leave decals (something I overlooked)
-Centaur darts now stick to walls and trees
-A breath meter
-Removed altfires. I felt they were just tacked on.
----------------------Planned features-----------------------------
-"Doom 2 mode". The base maps are used, but monsters and weapons will be stock doom 2.
-A way to increase player's movement speed.
-Journal entries will be replace with an image of a journal page with the the words hand written for realism(tm).
-More fire pits and possibly more sources for the stick item.
-A reworking of the final area on the island.
-Particle based flames
-Super secret map. Depends on how much I feel like working on it
----------------------Might be added-----------------------------
-A new monster. Well, not quite new as it was used as an easter egg.
-A 1024 style map for "survival mode"
-A true final boss. The only thing holding this back is the graphics I'd have to draw for it. But given the nature of the beast, it isn't beyond my skills.
-Changes to the falling damage system. Maybe after falling far enough your speed will decrease for some time, or maybe lock you in place for some time.
-loggun alt-fire.
-Boss rush mode (maybe).
-deathmatch mode
////////////////
Original post//
///////////////
I've been thinking about it and realize there are still some bugs in the project. I also have ideas that I wanted to add, but got too lazy. I plan on cleaing stuff up and adding two extra endings, with the last being a good ending instead of good/bad. add more ambient sounds. Light defs for fireballs and such.
If anyone wants to help me and set the maps up for regular doom2 gameplay, I plan on adding that as a secret mod you unlock. But I'm too lazy to do monster placement.
If anybody has ideas on whether I should actually do it, or things they like see changed (nothing drastic though.