[thumb]https://orig00.deviantart.net/c6ff/f/2018/010/2/2/credit_by_mazoyah-dbzjb92.png[/thumb]
NUN WITH A GUN
Download:
http://download2265.mediafire.com/cj860 ... gun_V9.wad
Zandronum compatible .V9:
http://download1321.mediafire.com/0o7id ... dronum.wad
Music pack:
http://download1321.mediafire.com/oodfm ... icpack.wad
Story:
In the distant future where chaos and war are the only constants, the Holy Sisterhood of Brawn is all that stands between humanity and eternal damnation at the hands of Hell's legions, let loose on Earth sometime in the 21st century. Faith is one of many nuns who devote their lives to protecting human souls, driving back Hell's grasping hold, and bodybuilding in the name of Buff Mary and Ripped Jesus.
The outdated evangelical counsels have been replaced with three vows all applicants must take before beginning their training:
Seek to better your world and protect it from evil.
Seek to build your strength, mental, spiritual and physical.
Seek to slaughter with great prejudice any minions of Hell you encounter.
Faith lives by all three counsels, but especially the last. She takes great joy in the massacre of Hellspawn, and will go out of her way to eliminate any traces of Hellish influence (gotta get that sweet 100% enemy kill count lol)
Screenshots:
[spoiler]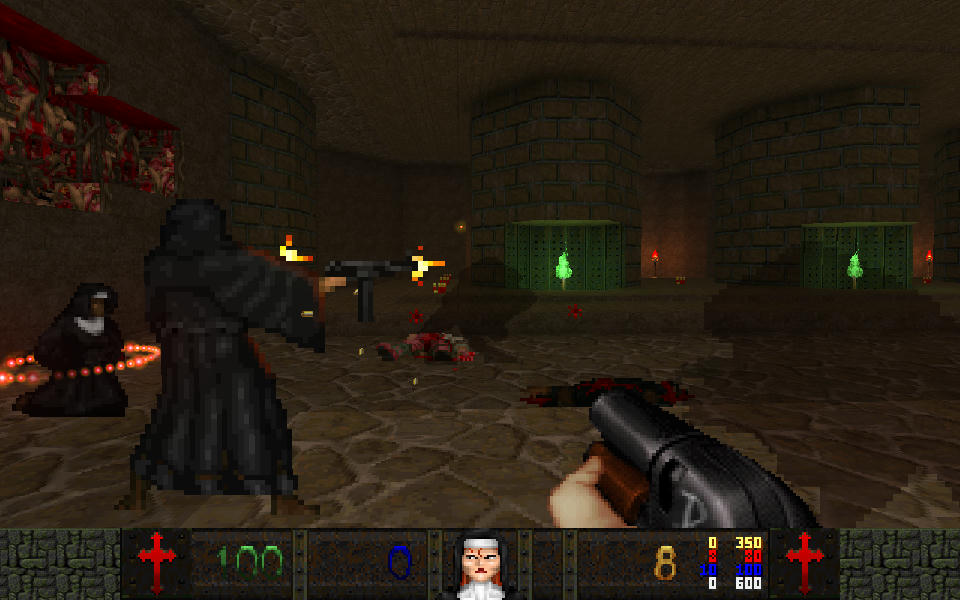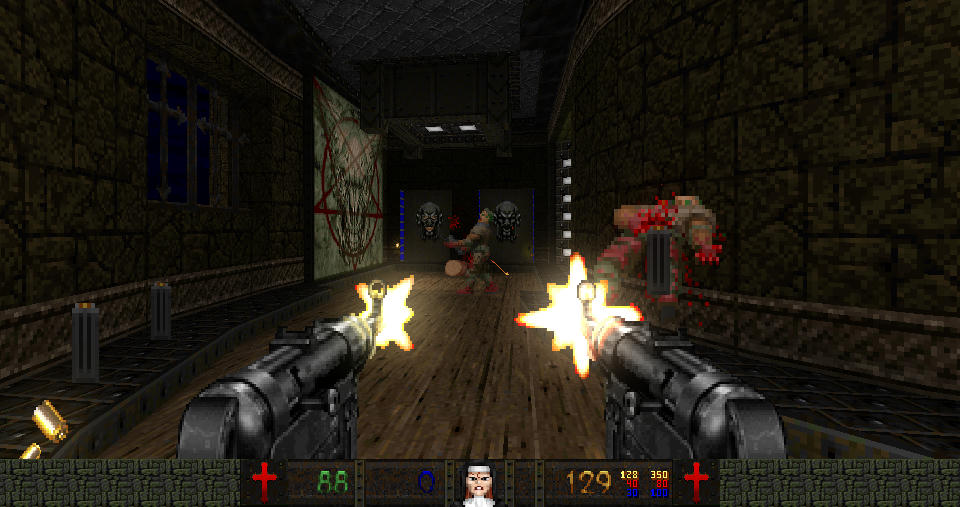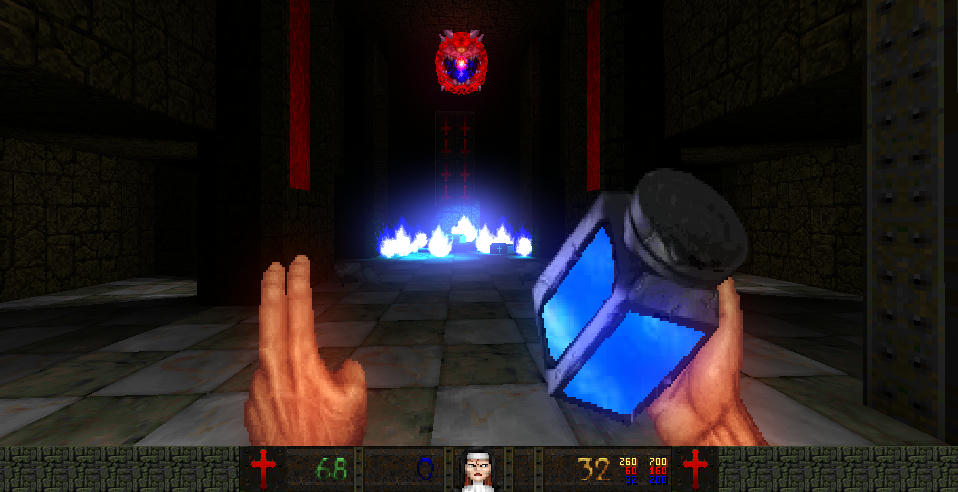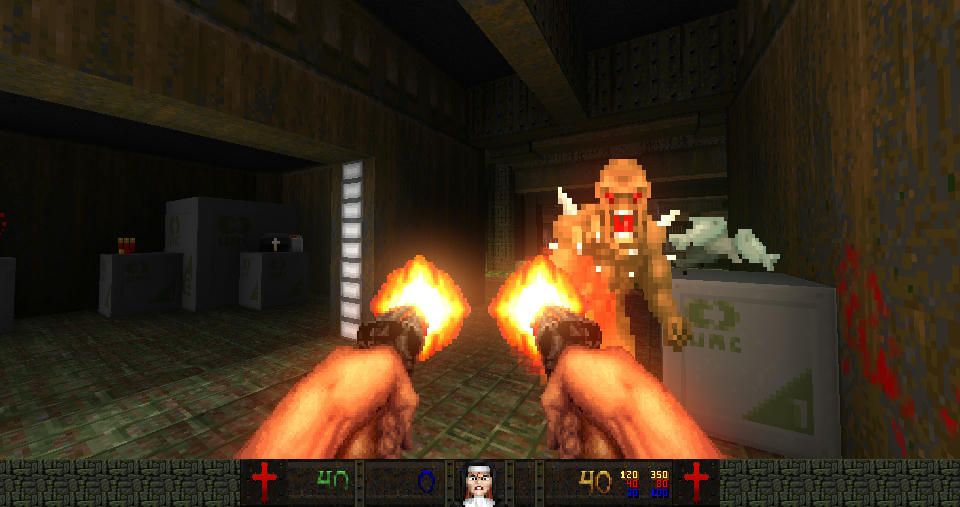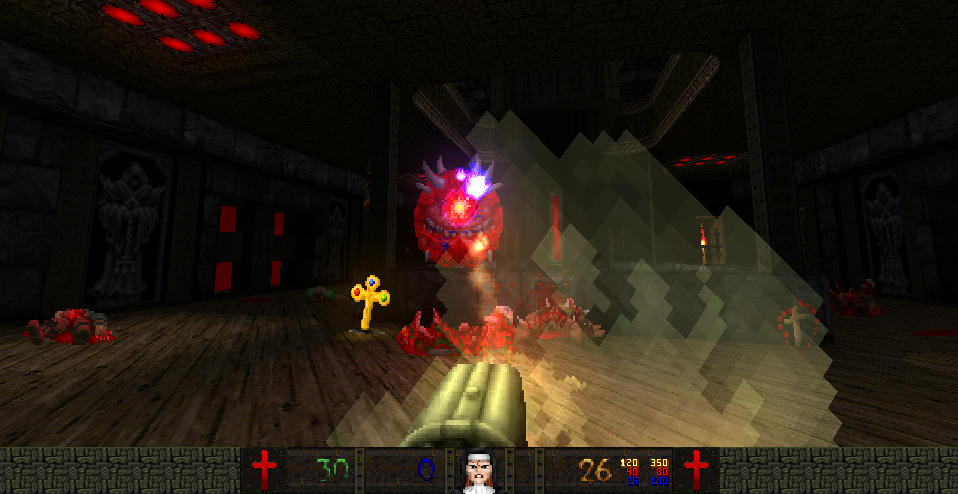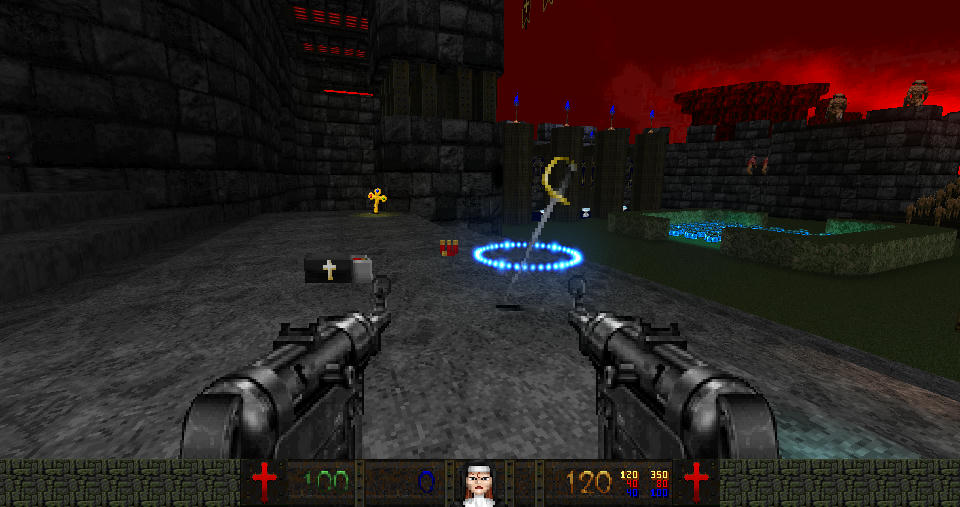 [/spoiler]
Weapons:
[spoiler]Melee- Faith kicks like a donkey and punches like a bear. She's a Noah's Ark of destruction!
Main fire- Does several quick punches before charging up for a big'un (strengthened by the Crucifix pickup). Creates a shockwave which will decimate weaklings and stun tougher enemies
Reload- Kick (also strengthened by the crucifix). Send enemies flying halfway across the map, and propel yourself back and up. Can be used to walljump.
Altfire- Sign of the cross (also strengthened by the crucifix)
Faith can double jump too. They do say faith will give you wings lol
Revolvers- Standard issue Cain & Abel nun guns. Weak but reliable.
Altfire- Explosive bullet. Holding the revolvers too close together results in a powerful electrical reaction due to their opposing charges and this energy fuses the bullets together to create one superbullet.
Akimbo MP40s- Conscrated by an Austrian nun in WW2 for use against Nazi vampires, these babes will rip apart anything with walls of silver bullets.
Main fire- Crowd control mode.
Altfire- Concentrated fire.
Shotgun- This babe will see you through all but the most brutal maps.
Main fire- Spits out a shower of holy fire.
Altfire- Regular ol' buckshot. More accurate at long range than main fire.
Akimbo sawnoffs- Given to Faith by the head nun from her private collection.
Fills the air in front of you with a pea-soup-fog of burning lead.
Main fire- Will wipe out everything directly in front of you and graze anything futher than 12 feet or so
Altfire- Slightly weaker at long range but close range attack creates a massive shockwave, useful for clearing hordes of enemies.
Bolter- A sacred weapon used by the warrior nuns. Shoots large, explosive rounds.
Main fire- Fires in bursts of three, semi-accurately
Altfire- Same as above but way more accurate
Holy water- Tried and true demon-obliteration fare. Lob it at enemies to melt their faces off, orchuck it at the ceiling above them to rain holy fire.
Main fire- Throws a bottle of holy water.
Altfire- Throws a bouncing bottle of holy water.
Holy water cannon- Faith made this herself from an antique elephant gun. Send holy water slugs scorching through your enemies (and anyone standing behind them too)
Main fire- Fires a burning slug and rail.
Altfire- Fires both barrels
Reload- reload

Cross of St Jeanne- The ultimate in demon-purifying fare!
Main fire- Lets loose one powerful hitscan and fills the air with energy bursts after a brief warmup.
Altfire- Hurls out rapidfire holy energy beams
Saint's sabre- A sacred weapon stolen many years ago. You may come across it as you combat the demon hordes.
Main fire- swing. Striking enemies will slice off part of their corrupted soul (2 soul ammo)
Charged fire- Tap fire to swing, then hold fire when the blade shines. Keep holding fire til the blade
begins to glow, then release to rain righteous fury upon the hordes of the unholy (does splash damage)
Tooth relic- Obtaining this ancient relic grants you the authority to summon benevolent spirits.
Main fire- rapid fire weakish energy balls
Altfire- Stronger energy ball which chucks stuff around on impact
reload- summon the ghost of Rifle Mary (costs 50 soul ammo)
zoom- summon a Heavenly Bruiser (costs 200 soul ammo)[/spoiler]
Old version:
http://www.mediafire.com/file/0r9q0mdsp ... _a_gun.zip
Old vids:
[spoiler]
[/spoiler]
Other cool stuff to use with this mod:
Scythe 2:
https://www.doomworld.com/idgames/level ... ds/scythe2
Requiem:
https://www.doomworld.com/idgames/level ... ds/requiem
Preacher:
https://www.doomworld.com/forum/topic/6 ... ap-041717/
SpriteShadow:
viewtopic.php?f=37&t=54992
Nashblood:
viewtopic.php?f=19&t=50448
Credits:
Sprites- Captain J, GAA1992, xenoxols, Torridgristle, ravage, Hornetzero, Turbo, osjclatchford, Mike12
Sounds- blackrockshooter, Captain J, some Marvel game, Heretic, PB, SF V
Afrit, Bruiser and Pyrodemon- Realm667
Music list:
Spoiler: