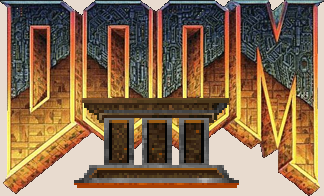 Earth on Hell
About
A fanmade DOOM modification that attemps to simulate what a truely DOOM 3 should be like. It follows a story that was never done in DOOM modding, what if Earth was abducted just like what happened to Deimos.
Little promo image with no other purpose than having fun.
Story so far (comic style)
Spoiler:
Screenshots
Spoiler:
Features:
-Two new 17 (or more) maps episodes: Earth on Hell, and Hell Anomaly.
-New monsters, some from existing resources but with all new decorate, and some truly new (not shown on the screenshots).
-At least two new weapons.
-At least two new power-ups.
-All new skill 6 "Ultra raro". Like Ultra-Violence but sharper enemy AI and some extra effects. Designed mostly for coop/survival.
-Oldshool "YOU ARE HERE!" intermissions that show your progress through the episodes.
-New titlepic, m_doom, credit, help, endpics.
-Over 2000 compiled textures from "new texture thread", other sources, and a few new made by the team.
-Designed for zandronum compatibility.
-New music compiled from different sources, hopefully we avoided overused or easily recognizable material. One or two themes composed by the team.
-Deathmatch support.
The monsters
(some of them):
-
Former Human Lieutenant:
SSG Zombie.
-
Former Human Ranger:
They belonged to a military elite.They retain their gun disarming skills and will make you taste your own medicine.
-
Forgotten Souls:
If you were curious about the zombiefication process these Lost Souls cousins will give you the answer if you let them get too close. Troll tip: If you want to ruin a coop game, let these kill you and enjoy how your zombified self unleash chaos,
-
Nightmare Imp:
Deadlier Imp variant.
-Nightmare Spectres:
Deadlier Spectre variant.
+
Tick:
slippery spamming insectoid from hell.
-
Krampus:
Deadlier Mancubus variant.
-
Wraith:
After so many years dealing with teleports hell finally learned how to spawn teleporting demons.
+
Bruisers:
Vicious hell gunners that will avoid your attacks and chase you with a rain of red plasma balls.
+
Vagary:
Telekinetic female spider demon.
-
Hunter:
Powerful demons spawned with the sole purpose of hunting you. They can temporarily increment their strengths, turn invulnerable, and stop the time. Watch out, they are smarter than the average demon and will predict your moves while attacking you.
+
Brain Commander:
Hell was not idle. These monsters are the result of years of evolution in robotics and genetics. To neutralize them you can destroy the puppet or kill the puppeteer.
-
Mini Icon of Sin:
Positioning the Icons of Sin required centuries of work, so hell developed a more versatile way with the help of bio engineering. Don't let the word "mini" fool you, these are as powerful as the original thing, if not more.
-
Warper:
Reality warpers that mutate the environment into hell. They can also regenerate, and more. There's no demon as chaotic as this one.
+ Only found on second episode.
The weapons
-
Grenade launcher:
Deals the same damage as the rocket launcher but its projectiles bounce on walls, its explosions kick the target further than regular rockets. The set back is that it has a slower rate of fire.
Other weapons and power ups might be added.
Team:
-Dark-Doomer/Brasuka: main mapper.
-Evil_3d: Mapper.
-Hells/Frost-Fire: Mapper.
-Vegeta: Mapper, graphics, design.
-ZombieMad/Fwiffo: Coder, Mapper
Aditional credits and special thanks to:
We used resources made by
3d realms
Banjo Software
David G
Edmundo Bourdeau
Enjay
Eriance
Everyone in the custom texture thread
id Software
Kronos
Lobotomy software
Lupinx-Kassman
Monolith software
Nmn
Onslaught Six
Raven Software (nothing from Heretic or Hexen, relax)
Rogue software
SolarSnowFall
Torn
Vader
Virtue
Zrrion the insect
How can one help?
The team can cover anything needed to complete the project, still help is welcome.
-Spriters are always a blessing! Some monsters could be improved, replaced, added.
-Mappers would be great, both for new maps and improving existing ones.
-Music and specially sound effects artists are also welcome.
NOTE:
This mod is designed for Zandronum with doom2.wad as iwad (it will have problems with plutonia.wad or tnt.wad).
To play it in Zandronum
Zandronum -iwad doom2.wad -file skulltag_actors.pk3 skulltag_data.pk3 Doom3_E1Demo.pk3
Skulltag_content2.pk3 will also work.
To play the mod in ZDOOM or GZDOOM
-file -iwad doom2.wad -file skulltag_data.pk3 GZ_Canion.pk3 Doom3_E1Demo.pk3
Link for gzd_canion.pk3
https://www.dropbox.com/s/ck8jfhnwq63tt ... n.pk3?dl=0
Link for demo
https://www.dropbox.com/s/87c0101dqskfd ... o.pk3?dl=0
Most likely we'll be updating new versions of this demo, the latest one will always be available be on first post. One of the features that we must add on later versions are skill settings, yet the game is fully playable right now, until then, sorry if you find it too hard (well it's Earth floating above Hell, it has to be difficult).
If you find it too dark, try "standard" sector light mode, and fog mode off.
Happy demon hunting.
If
When you find bugs please post them here.
Stay tunned for the whole thing that will include a second episode "Hell Anomaly" with extra monsters.