Late last year, I suddenly got back into Doom after having messed about with WADding about 20 years ago. After poking around and discovering what you can do with ZDoom, an experiment is starting to turn into an episode. It centres around Vulkan, a subsidiary of the UAC that runs a geothermal power station that's accidentally drilled into Hell.
Latest version (2 maps): http://www.teamouse.net/games/vulkan/vu ... -01-18.pk3
Screenshots under spoiler:
Spoiler:
- Uses the DOOM2 IWAD
- Designed with the level of firepower of Brutal Doom in mind (which I enjoyed a lot before I knew anything about its creator), but works without it as well
- Adds Rise of the Triad-style coins, largely because I ran out of ideas for secret rewards - collecting all 100 in a level grants a supercharge
- Uses humanoid monsters from scalliano and Tormentor667
- Also featuring new monsters (obviously edited from scalliano's scientists):
Plasma Zombie Scientist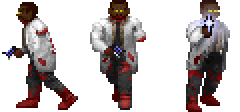 Coming out of the need to have another human-type enemy with a projectile attack, this zombie is armed with a plasma pistol. He's a bit like a more lightweight, faster Imp (sort of taking its place in this mod as Brutal Doom has made the imp so much more potent).
Headless Scientist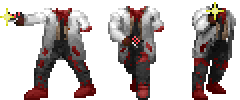 This zombie is missing something, but he doesn't let it slow him down. He's armed with a submachine gun, which he isn't afraid to use even though he's not a great shot for reasons that are excusable in the circumstances. Don't let him get up close, or he'll sense you and fire a devastating point-blank attack.