Here are some of my custom sprites from over the years of spriting:
Inferno Pheonix Rod: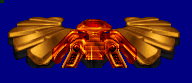 Ultimate Staff:

Phoenix:
[spoiler]
[/spoiler]
Violator: Spawn's most iconic villain
Spoiler:
Violator Human form:
Spoiler:
Overtkill Ettin: An automaton Ettin, with the color scheme of Overtkill, a villain from Spawn.
Spoiler:
Dragon Claw Gauntlet:
Spoiler:
Heretic Title screen wand (no staff, just a red ruby like gem):
Spoiler:
Cursed Crossbow:
Spoiler:
Nightmare Crossbow:
Spoiler:
Visceral Gauntlets:
Spoiler:
Munition Wand:
Spoiler:
Medieval dual Light Axe:
Spoiler:
Red molten Mace:
Spoiler:
Taurus Enhanced Hellstaff:
Spoiler:
Brutus Bane
Spoiler:
Original Enemy sheets for Hexen and Heretic were provided by Dunkelshwamm. Violator human form original sheet (Chain gunner) credits to David G. Credit to Ettingrinder for providing Ettin sprite sheet with no mace. Credit to Ojsclatchford for the original sheet of rotating stick weapon (heretic).