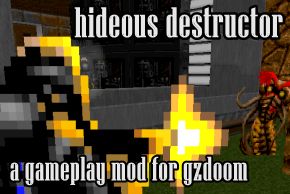 Download latest release
(version number always starts with target GZDoom version.)
To use, just run the downloaded .zip file as you would a .pk3.
(If there's a ~"compiled"~ .pk7 in the release, however, just use that.)
NB:
Here is a version of HD that is playable in Zandronum.
Thanks to Sledge/Somagu for this. Please note that I am not in a position to update or bugfix this.
NB: On that note,
here's a link to the unofficial HD Discord.
A gameplay mod that:
Slows the player down to more anatomically plausible speeds;
Adds and modifies weapons and adds numerous options to better emulate the behaviour of real-life counterparts; and
Beefs up various monsters and items for verisimilitude and difficulty.
Quickstart

(no seriously read this if you're new to this mod)

:
Use slot 9 or look down in case you're

bleeding

to death.
Use

medikits

to stop

bleeding

.
Hit the

reload

key to reload. (Hold the key to avoid dropping the mag.)
Hit the

unload

key (user4) to strip ammo from your current weapon.
Hit the

alternate reload

and

fire mode

keys (user1 and user2) to operate certain alternative functions on your weapon. (Details in the manual.)
Tap or hold the

use/open door

key to pick up things and melee people.
Hit the

user3

key to charge or reorganize magazines or batteries.
Hold the

jump

key in front of a low ledge to climb over it.
Hold the

run/walk

key to run.
Stop moving and hold the

use/open door

key to view all inventory.
Spoiler: Videos:
Related mods (check out the the main addons list for more)
Also recommended
Maps specifically designed for this mod:
This mod was never designed to actually allow the player to win anything and
may make it literally impossible to advance through some maps.
For convenience I've included a list of a few maps that seem to work better than others (but
the one on the git wiki is better updated and tested
).