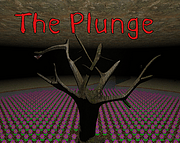 Hello everyone!
I have been tasked with creating a standalone game on the GZDoom engine, with assets either made by me, or modified from Public Domain resources. The game was distributed to players along with a survey. This was a project for my thesis, and was reviewed favourably by my teachers and seemed to be enjoyed by the respondents.
The plot: Your mother is deadly ill, so your task is to venture into the caverns to find a rare flower, which is a crucial ingredient for the cure. The caverns hold many dangers, but you are brave enough to face any danger!
You can grab the game from itchio:
https://jakub-majewski.itch.io/plunge
To begin playing, extract the zip and click on "Plunge.exe". You can play in either Polish or English and have an option to play with Texture Displacement, which will give more depth to the environments, but can look a little unsettling to a lot of people.
There is only one difficulty setting, and you need to bind Drop "Weapon/Lamp" to play the game properly(it should be bound to E by default). Make sure to press F1 for further help and instructions.
The gameplay can be described as a first person adventure, with elements of action and puzzle solving sprinkled throughout. If you know where to go, the game shouldn't take long to beat. As this is the initial release, I may consider updating it in the future, especially if users will report issues.
Here's a collection of screenshots: (sorry for the trouble)
Spoiler:
 Thanks for participating in the survey, your answers helped me a lot!
Here's the walkthrough:
Spoiler:
And here's a secrets guide:
Spoiler:
That's all, hope to see you soon.