Something I've been working on...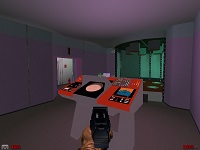 (Click for full-sized screenshots)
Project Web Site
|
Mod Git Repository
Right now I'm re-creating the shooting set that was used for aboard-ship scenes in Star Trek (The Original Series). I plan to eventually expand to broader maps, using the components that I've created for the set layout to make a full level (or set of levels - not sure yet).
I've finished the bridge, conference room, transporter room and a basic quarters area that is waiting to be individualized. I'm most of the way done on engineering (minus some wall details and the emergency manual monitor area), the full corridor set (minus the Jefferies tube) and turbolifts. Still need to start sickbay and its associated areas.
I'm not sure if/when this will be released... While a lot of the models and texture work are mine (either new or from years ago), there are some resources that I've pulled from an old Elite Force mod I was a team member on, and I'm not sure where they came from originally. Given that they're 10 years old at this point, I don't think anyone will mind, but... And I know that there is at least one model that I need to re-do that came directly from Elite Force (bridge weapons targeting scanner).