New version out -- P16-1
http://www.wuala.com/jwaffe/Hosted/ChexPackP16-1.pk3/
Contains 5 new duel maps!
DUEL09 : Major Fault by 75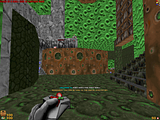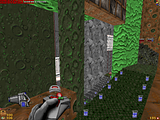 Commentary on this map:
Difficult, fast paced, and quite strange looking, though the strange appearance matches the sort of wild gameplay this map offers, with teleporters you can use to dodge in 3 dimensions because they do not slow you down.
DUEL10 : Sweltering Spiral by 75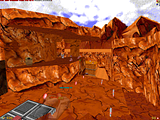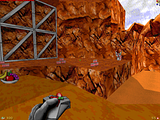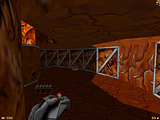 Commentary on this map:
A moderate paced map, with locations designed for each weapon, there are some areas where a weapon is better than others. Several shortcuts can allow you to get an advantage over your opponent if you learn how to use them well.
DUEL11 : Consilium by 75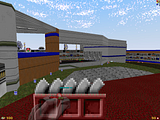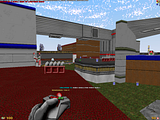 Commentary on this map:
Inspired by the old vanilla Doom DM/Duel map Uroborous, this map has the same sort of layout, and is possibly the laziest map I've made recently, it's simple layout is easy to navigate and it has a forgiving layout with a lot of cover, good for beginners.
DUEL12 : Mountain Bungalo by QuadrumpusGuy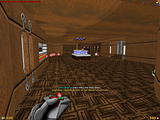 Commentary on this map:
It's a lot smaller than it looks, this map forces you to move quickly to avoid your opponents' CL zorcher and zorch launcher attacks, though if you are clever you will find that safety is never really far away if you get in trouble, you will need to think quickly to realize where you can go though. After you avoid his or her attempts to zorch you, it's best to turn around for a counterattack, using an alternate path.
DUEL13: Mysterious Lab by 75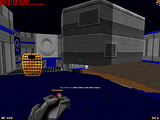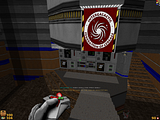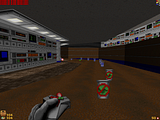 Commentary on this map:
Somewhat inspired by Doom E1M2 and Doom E1M4, this map is slow paced and complicated, talking place in a abandoned, damaged lab. There are many ways to play this map, and a lot of room for creativity, listen carefully to the sounds your opponent makes in the map (from opening doors, using lifts, etc.) to find where he or she is, and act accordingly to succeed.
The new Duel hub is not done yet, but it is being worked on.
Quadrumpusguy is working on Episode 4, E4M1-E4M5, E4M7, and the two bonus levels are playable and included in this pack, if you would like a preview.