I just added a new enemy: The Flemoidous Gyro
The original sprites were made by Boingo The Clown. True Dude added helicopter blades, and I coded it and added pain, death, and attack frames.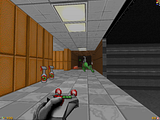 The helicopter is constantly running except when it gets hit. When it "dies", the flemoid gets zorched away, and the helicopter floats down to the ground.
It is like fighting a lost soul, without a charge attack. It is much more agile than the lost soul, and changes directions very often.
This enemy doesn't appear in any of the maps, but you can summon it with the console command "summon gyro".
You can try the Gyro out with this pk3 -
http://www.mediafire.com/?wse019ny2c39911
(ChexSTPackP15-4-Gyro.pk3 )
I plan on making a better animation for its death state.
Also in this pk3:
A new co-op/single player map, by Quadrumpusguy: E1M7. You can't access it from the main menu, so you must get to it by using the console command "MAP E1M7".
A preview of a co-op/single player map by me (E1M8).
EDIT - I made a video of this enemy: