Wed May 27, 2015 5:27 pm
Download
Release 4 (1.0.0.1)
A frontend similar to ZDL with some extra spice.
I made this a long while ago, and since I've been using it as my main means of playing Doom, I have now released an enhanced version.
Features:
Most panes support drag-n-drop, which will also give proper names based on the file name.
Everything ZDL has, sans session saving.
Command-line flags tab.
Simple file browser with search functionality. (Give it directories in Settings -> File Paths)
Can use either +map or -warp parameters without manually setting them, see Settings -> YADFUCIMP.
Pretty icons.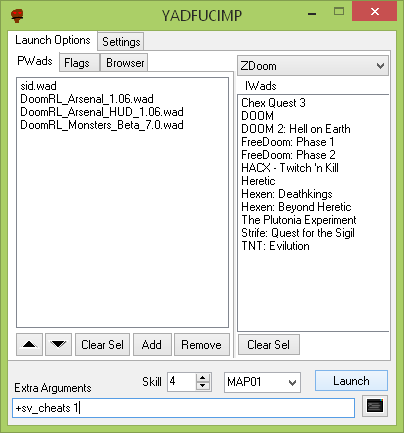 Last edited by
Marrub
on Tue Mar 21, 2017 10:24 pm, edited 3 times in total.
Wed Feb 17, 2016 8:10 am
Bump. Updated.
Wed Feb 17, 2016 9:44 am
not mentioned: extra updated with less retarded bugs
Fri Jan 13, 2017 12:22 pm
What did you write it in, and is the source code available?
Thu May 18, 2017 1:25 am
Three suggestions:
- Switch positions of the IWAD and PWAD windows. It seems more natural to have the IWAD selection on the left side.
- Add Checkboxes for PWADs. The way it is now, you always have to remove/re-add pwads which you don't use all the time. It's better to be able to have them there all the time and decide per click if you want to load them or not, similar to e.g. the ZDoom Executor. Other than that, I like the simplicity of this thing.
- You should also aim for (at least optional) portability, i.e. store the ini/cfg in the installation directory (I dunno if that is what you are aiming for, though).
Thu May 18, 2017 12:59 pm
The way it is now is very similar to the layout of ZDL (including which side the PWADs and IWADs are).
To me that's a wise move because it would help the transition from ZDL to YADFUCIMP for anyone making that transition.
Fri May 19, 2017 1:43 am
No, I wouldn't fuc an imp.

(Cool launcher, thanks for making this)
Sun May 21, 2017 6:51 am
Please add session saving, it would be really useful. Otherwise, it's a great launcher.
Sat May 27, 2017 9:47 am
I haven't been working on this for at least a year because the code is too crappy for me to work with, sorry. Was considering rewriting it but I already have enough problems writing unrelated GUI applications

Sat May 27, 2017 9:57 am
This looks like a good option
Tue Jun 27, 2017 12:11 am
I like this frontend very much. I'm allowed to fully customize it to my liking and I used it for 3DGE for the first time. Golly, the command line features coupled with IWAD/PWAD make searching/drag-n-dropping an effort of the past. Thank you, because this Doom Frontend Ultimately Impressed Me Personally