555 GZDooM GUI Launcher V4
This program requires the JDK!!
The same thing you need to run that one block game.
Screenshots of the launcher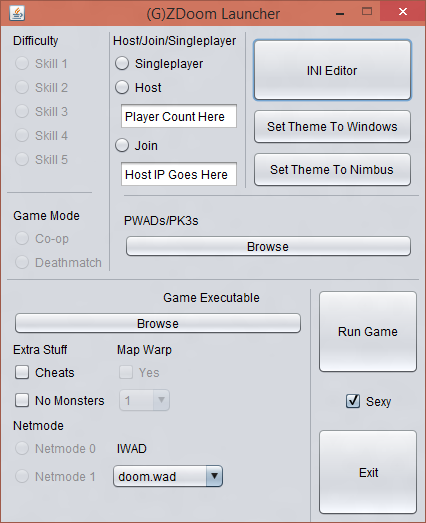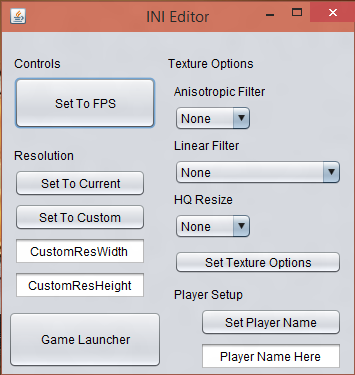 Features:
New! INI Editor to edit the most common settings in the INI (for lazy people or people who want a quick start without doing everything 1 by 1 in game)
New! Theme changer (Windows and Nimbus. Nimbus is what's shown in the screenshots)
Difficulty selection,
Single player game
Host Co-op or death match game (and a box to enter player count)
Join multiplayer game (and a box to enter the host's IP)
Custom content selection via a file browser dialogue
ZDoom *and GZDoom source port compatibility
Change netmode
Set skill level
Map warp
Enable cheats (for co-op derping)
Disable monsters
Choose IWAD
An unchangable checkbox that says "Sexy" and upon attempting to change it it says "Impossible"
Notes:
Settings do not save
You can just drop the .jar into the same directory as gzdoom.exe or zdoom.exe and it will run
If the .jar is not in the same directory as gzdoom.exe or zdoom.exe you must select the executable before you can run the game
I highly recommend putting it in the directory of gzdoom.exe or zdoom.exe and just making a desktop shortcut
To use the INI editor the .jar
MUST
be in the same folder as your original .ini file or it will
NOT
work
Download The Launcher Here
Changelog:
V2
Fixed a bunch of bugs with singleplayer mode. (Forgot to test singleplayer. woops!)

V3
Fixed a couple bugs relating to file selection.
Fixed bugs relating to the map warping, and added a few failsafes to make sure every launch command argument will work properly.

V4
Added a theme changer
Added an INI editor
//If you want to use this or include this in
anything, ask me first!