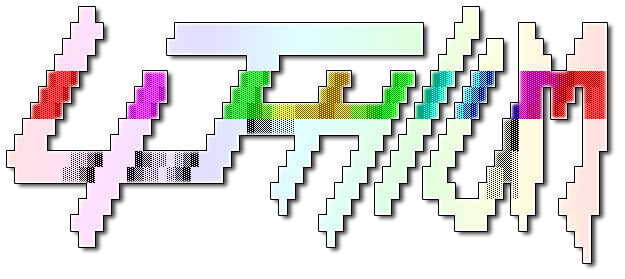 authored by Marrub
>>>>>

[[[[Overview]]]]
Download
(
53.4
MiB)
Version

1.6
Credits
Git Repository
Lore
Requires GZDoom 3.6 or greater. Version 1.5.3 and older require at least GZDoom 2.1 or ZDoom 2.8.1.
Lithium
is a gameplay mod that features an upgrades system, currency, two new classes with full weapon sets, an inventory system, deadlier enemies, monster mod and multiplayer compatibility, and much more.
See the description section below for more information.
This mod was created because I felt that there was a severe lack of RPG-lite mods for ZDoom, such as Kyle873's DoomRPG – but more toned down on numbers.
Lithium has been under development for about three years. Thanks to everyone for playing, testing and giving feedback, I hope you all enjoy it as much as I've enjoyed making it.
I am open to suggestions for balance, additions, world-ending monstrosities, etc. I want to make this mod as polished and fun as I can.

Public Discord server here
in case you want that; also a hub for other projects of mine and several other developers.
>>>>>

[[[[Description]]]]
The mod has two unique player classes: the
Marine
, and the
Cyber-Mage
. They both have unique arsenals and upgrades, as well as mechanics.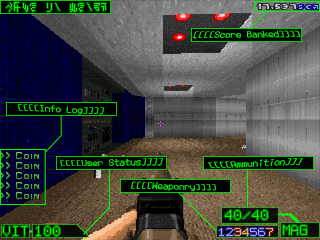 As the Marine, you play as a cybernetically enhanced soldier sent by a military on Earth to destroy demons which have invaded from another dimension.
You are given money ("
Score
", abbreviated
scr
) for completing your objective and as compensation.
Working in concert with a large tech company, you are supplied with upgrades for your weaponry and augmentations.
As the Cyber-Mage, you play as the spell-casting pawn of a corporation/cult, seeking freedom in the confusion of the demon invasion.
You may acquire spells (sometimes referred to as "methods") and use Mana acquired from dead enemies to highly increase your combat effectiveness.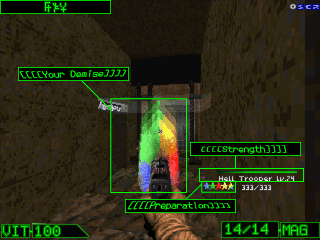 Be careful, though; Hell is not a kind dimension, and has sent its best to destroy you and your efforts...
Both of the player classes have a core set of features involving cybernetics and information: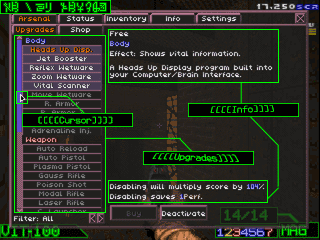 You are augmented with a
Computer/Brain Interface
, or
C/BI
for short.
The C/BI allows you to purchase upgrades and ammunition, view information on things you've found, review statistics, change game settings and more.
There are four categories of upgrade:
Body
upgrades, which improve your movement, defense and information.
Weapon
upgrades, which improve your offensive capabilities.
Extra
upgrades, which are silly, expensive upgrades for fun.
Downgrades
, which impair your ability to play at the "benefit" of gaining additional score.
The
Shop
allows you to buy ammunition for your weapons, new guns, powerups and some day perhaps more.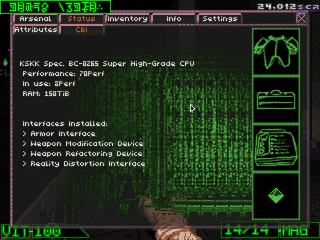 Your
Computer/Brain Interface
can itself interface and be upgraded with various PCBs and external units, its
CPU
and
RAM
can also be upgraded.
Unfortunately, such items are far too expensive and dangerous to buy. Maybe there's another way to acquire them...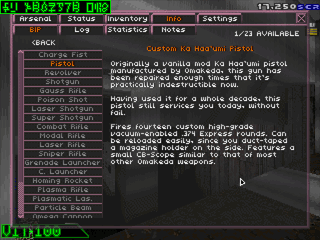 The
Biotic Information Panel
(or
BIP
) gives you access to descriptions on things of which you've found, and anything relating to them, as well as letting you access mail and statistics.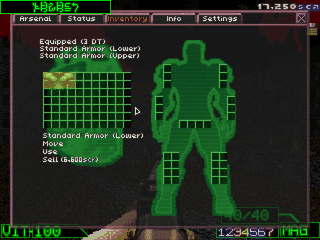 It seems like there's some things you just don't want to pawn off or use right away, so your
Inventory
allows you to carry around armors, accessories and more to use or sell whenever you please.
>>>>>

[[[[Known Bugs]]]]
The intermission screen may freeze up if you mash buttons. This is fixed in 1.6.1. Please instead just hold altfire to skip the screen.
The dynamic crosshair is not entirely accurate. This is fixed in 1.6.1.
Some things still move while time is frozen. This is fixed in 1.6.1.
The log screen sometimes causes a script error. This is fixed in 1.6.1.
Enemies may level up when hit with the poison shotgun. This is fixed in 1.6.1.
Tech pillars are not shoot-through and will disappear after taking enough damage. This is fixed in 1.6.1.
The vital scanner health numbers are sometimes wrong. This is fixed in 1.6.1.
The GUI has clipping issues in arbitrary resolutions. This is fixed in 1.6.1. In the meantime use one of the resolution presets in the menu.
Respawning in multiplayer will crash the game. This is fixed in 1.6.1.
The inventory will be put into an indeterminate state and crash after a death exit or otherwise respawning. This is fixed in 1.6.1.
>>>>>

[[[[Addons]]]]
Spoiler:
>>>>>

[[[[Extra]]]]
Spoiler:
>>>>>

[[[[Changelog]]]]
Spoiler:
>>>>>

[[[[Old Versions]]]]
Spoiler: