wildweasel wrote:The bandage was taken from an actual photo of a roll of gauze, but yeah, the toilet roll look is unfortunate. I can't think of any better replacements, though.
As used by the British army, and many others.
http://images.google.co.uk/images?hl=en ... a=N&tab=wi
I've got a few mates in the army and we always carry them when we go hill walking. Quite why they expect us to get the kind of injuries that these things dress I really don't know but, hey, they don't weigh much so why not carry one?

This one would have been a good pic if it wasn't so low res.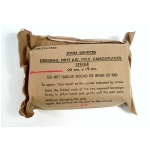 The packet is about 5 inches across.