Somewhere In Nevada...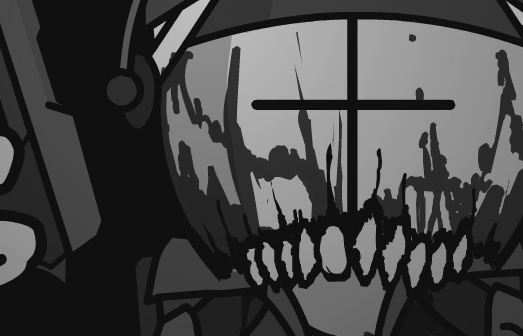 ...NOW IN HELL!
Show of hands, how many of you still remember this violent ol' webseries from time's past?
Spoiler: Just to catch you up, since he's made more episodes
And you may ask yourself,
"What if I brought that same Madness to Hell's gate?"
Thanks to a certain friend's help, I have the answer!
Recently, I got in touch with the sound engineer—CturiX Kemilon—who was

generous

enough to give me an entire motherlode of sound effects to use! This included everything from the old flash-era stuff without the auditory crust, to the sounds featured in the new Deadmos episodes and even the long awaited 11th episode, and plenty more. These sounds are mostly gunshots of different kinds, with plenty of foley sounds, mag in/mag out, ricochets, bullet impacts and bolt fiddlin', not to mention meaty melee noises - swingin', hittin', hefty punches and missing as well, but those are in Scrapbook! Do note, there's some unrelated junk around in there, so I took the courtesy of jumping to the big folders with the goodies. (I asked him if it was fine if I sent his beautiful work out to be utilized for moddan purposes and potentially get popular, he was

giddy

and told me to go nuts with it!)

so yes, I have permission from him.
This is the link he sent me, which contains everything below and a little bit more, shitposts included;
DOWNLOAD ALL THE SOUNDS—ZIP, 579MB
These links have the Madness sounds, from Avenger to DISSENTER and all in between;
DOWNLOAD NEW OFFICIAL (Sounds used in newer episodes) —ZIP, 156MB)
DOWNLOAD OLD OFFICIAL (Sounds used in the old episodes) — ZIP, 107MB
This here is where most of the non-gun sounds are, although there's plenty of gun sounds there.
DOWNLOAD "SCRAPBOOK!" (this is where all the misc stuff is) — ZIP, 211MB
EDIT: While Old official is
sourced
and edited from a multitude of games, they're edited enough to be legally usable in mods. Typical Creative Commons license.
Credit goes to CturiX for the sound engineering and design.