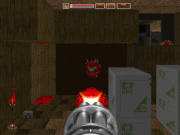 Here's my Metal Slug inspired HUD originally designed for a little side-project I was working on for a few weeks. I decided to release this as a standalone project just in case anyone else wants to use it or something. If you do use it, please give credit to me.
There are two bugs unfortunately:
There is supposed to be a second bar over the health and armor bar that displays when your health is between 101-200%, but I never was able to get it to work, thus it was never implemented.
The HUD doesn't work on any other resolutions besides 1024x768. I'm not sure why or how to fix this.
http://files.drdteam.org/index.php/file ... lughud.zip