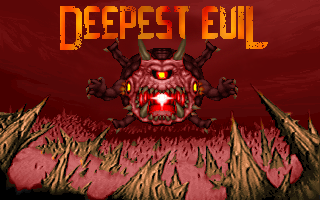 Deepest Evil is a mod for DooM 2 that takes the player through an infested base. Featured here is a 6 level 'first episode' - it not only includes enhancements to most of the existing DooM 2 monsters, but many fitting additions as well.
DOWNLOAD HERE:
DeepEvil.zip - 9.42MB
FEATURES:
- Reorganized weapons. 1) key uses no ammo, 2) is all bullet weapons, 3) are shell-based guns, 4) is nails, 5) is rockets, 6) is for plasma and 7) is for supernatural ammo!
- New sprites for many existing weapons.
- Rebalanced weapons - new friends join your DooM favorites as you find tools of varying power for all ammotypes.
- New monsters - new foes join doomed enemies who themselves have received upgrades. Arachnotrons act sharper, Cacodemons bleed blue and Revenants go duel as Terminators rampage and Cybruisers never miss a beat!
- Unique storyline - Traverse through an infested base, where forbidden hybridic experiments abound, and detonate a nuclear warhead before the demons take it with them! And that's just chapter 1!
WEAPONS AND POWERUPS:
- find the machinegun early to have a better backup than a mere pistol.
- Line up enemies to use the nailgun and it's ripper darts, or the flak cannon to deliver an all-powerful blast!
- The pulse rifle is an experimental cannon, smaller brother of the plasma rifle and more common.
- The UAC has crafted new types of armor await, both common and experimental!
- Supernatural artifacts lie in wait to do more for the player. The Hades sphere and Giga Sphere replenish, while the Shield Sphere adds new dimension to invincibility - right back at your foes!
NEW SCREENSHOTS:
Spoiler:
SCREENSHOTS:
Spoiler:
This mod uses tons of resources from various people:
Spoiler: