Just a reminder, if you're looking for a weapons mod filled with insanely detail-filled and beautiful Eriance-esque sprites, you're in the wrong place. This is a
cartoony
MSPAINT
mod. I already know some of you guys don't like that, so if you're one of those people, just go away.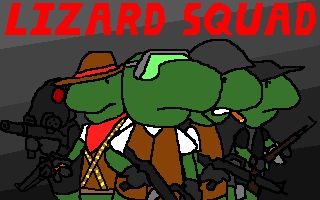 Download Lizard Squad Version 5.2a now!
Optional Lizardcommando Texture Pack for Doom 2
As stated earlier, this is a cartoony, MSPAINT ZDoom mod featuring brand new weapons, enemies, items, player classes and even rideable vehicles! Let's start off with the custom player classes:
*Brand New Unique Classes:
Default Player (Default guy, comes equipped with the .45 Pistol and has a new skin, the walking Heli-Lizard)
The Exterminator Player (comes equipped with the EXAR-1 and Combat Vest)
LSMC-Grunt (comes equipped with Hand Grenades, a unique weapon, the M4-A1 Assault Rifle and Combat Vest)
Marksman (comes equipped with an Infantry Rifle and Security Armor)
Cowboy Lizard (comes equipped with a unique weapon, the Revolver and Security Armor)
Spec-Ops Soldier (comes equipped with Hand Grenades, two unique weapons, the Silenced Machine Pistol, the Silenced Tactical Pistol and Tactical Armor)
What's new in this version:
Hey guys, here's the latest update:
-Some minor tweaks and bugfixes were made to the coding.
-The coding for the Assault Shotgun has been tweaked.
-Tweaked the Silenced Tactical Machine Pistol sprites.
-Player Classes are now implemented via MAPINFO instead of KEYCONF.
-New sprites for the Flaming Barrel, Explosive Barrel and the Radiation Suit.
-New Item, the Field Commander's Radio Pack!
Check out a few videos of the mod in action too.
*note: this level is NOT a part of this mod.
Spoiler:
Spoiler:
Spoiler:
ROD-309 Test Video
Random gameplay test
Enjay's Runaway Train - Redo gameplay
Lizard Squad Beta 1 Commercial
Spec-Ops Soldier class gameplay video (Beta 14)
The Beta13 Commercial
The old Beta12A trailer
All of the Doom/Doom 2 enemies have been replaced with brand new enemies. One enemy that has been ported and their graphics unchanged from my old ICD-Lizard mod, which is the Phantom, but many of the enemies that have been ported from ICD-Lizard (like the LSMC Grunt, Wizard Lizard, and Heli-Lizard) have been revamped and remade with updated graphics. There are even a few totally brand new enemies not seen in my previous mods!
I do plan on making a full-on texture replacement pack. It's currently being made along side this mod. That won't be coming out for a long time...
So go download it and tell me what you think of it. Make sure you read the textfiles and play this mod with the latest version of ZDoom!